Description
Aloe & Honey is a supplement based on Aloe Arborescens , of our organic crops in Molise. This drink is obtained from the whole leaf blended with the addition of Honey , C vitamin is Vitamin E .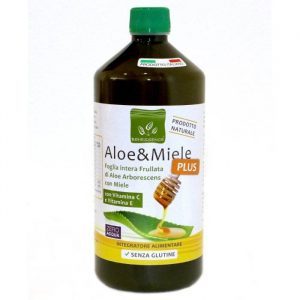 Quality and Benefits
Purifying and laxative function : The Aloe and Honey supplement supports and soothes the digestive system in particular, detoxifies the body in a natural way. Its purifying action helps our body to eliminate accumulated toxins. This process is accelerated by the presence of Aloin, with a laxative action, which drastically reduces the contact time of the waste with the intestinal mucous membranes.
High quality juice : 100% Wellness Aloe Arborescens juice. It is formulated with the minimum of processing to allow the natural components of the plant to remain unaltered and best perform their benefits. The result is a NON filtered, NOT pasteurized product, consisting only of whole blended leaves. To give you the full perception of Aloe.
Role of vitamins : The synergy between Aloe and Vitamins C and E is recommended to reduce stress, mental and physical fatigue, strengthen the body's natural defenses and help it cope with seasonal changes.
Our standards