Organic Extra Virgin Olive Oil – 3L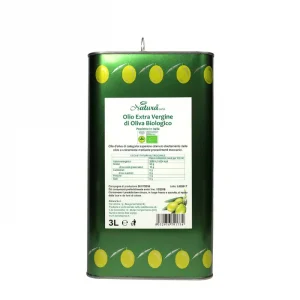 Superior category organic extra virgin olive oil obtained directly from olives and solely by mechanical processes. The entire olive supply chain is certified organic.
From the heart of Molise: For centuries our ancestors have cared for the olive trees, reaping season after season the fruits of a generous land suited to the cultivation of this extraordinary plant.
It is precisely from our olive groves located in lower Molise, between the sea and the hills, that our EVO Oil is born.
During each oil campaign, we harvest the olives at the right degree of ripeness through a process of knocking down the olives with pneumatic hands, and then ensure their
milling within 24H
from harvesting.
From a process of
cold extraction
we obtain our Extra virgin olive oil of superior category, moreover, it is stored in special containers that can preserve its freshness and goodness.
However, did you know that Organic Extra Virgin Olive Oil is good for your health?
It is rich in antioxidants, which are useful in fighting free radicals;

Increases basal metabolic rate, thanks to polyphenols;

Used in the right amounts it counteracts cardiovascular disease and reduces the risk of obesity.
---
Olive grower: Natura srl – Via Corsica, 19 – 86039 Termoli (CB)
Produced and packaged in the factory at: C.da Cocciolete, 10 – 86042 Campomarino (CB)