Aloe Vera Juice and Pulp with Blueberry – 2L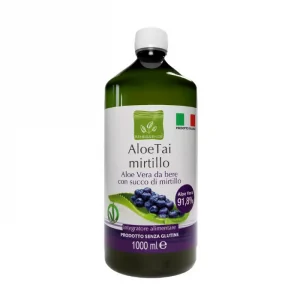 Quality and benefits
Blueberry AloeTai consists of pure Aloe Vera juice with the addition of Blueberry juice.
Quality product: 100% Benessence Aloe Vera juice. It is formulated with the minimum of processing to allow the plant's natural components to remain unaltered and best execute their benefits. The result is an unfiltered, unpasteurized product consisting only of real pulp to give you the full perception of Aloe Vera. Product safety is also ensured by the absence of aloin.
Appreciated by children: meeting the tastes of young children, the combination of aloe vera and blueberry is perfect for attracting the attention of even children, who are more oriented toward seeking sweet, sugary and unhealthy drinks. By remembering (at least up to age 12) to use a half dose (about 25ml) and not letting them take it every day, even the youngest children will be able to benefit from all the properties of aloe vera, thanks to the natural blueberry flavor and no added sugar.
Benefits of Blueberry: rich in micro-nutrients, it is an excellent ally against capillary fragility and for preserving the network of vessels that makes up our circulatory system. By improving microcirculation, it provides relief against heaviness in the legs and is helpful for proper blood flow to the vessels in the eye, better health for our eyesight, which is increasingly exposed to stress caused by exposure to smartphones and PCs.