Aloe Vera Juice and Pulp with Pomegranate – 2L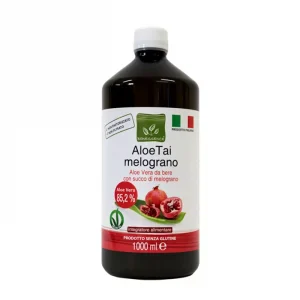 Drinking Aloe Vera Juice with Pomegranate consists of pure Aloe Vera juice and pulp with added Pomegranate juice. Aloe gel is manually extracted from the heart of the fresh leaf.
Benefits and quality
Quality product: 100% Benessence Aloe Vera juice. It is formulated with the minimum of processing to allow the plant's natural components to remain unaltered and best execute their benefits. The result is an unfiltered, unpasteurized product consisting only of real pulp to give you the full perception of Aloe Vera. Does not contain Aloin.
Supports healthy digestion: the best friend of wellness, Aloe Vera helps intestinal flora and gastric flow by promoting digestion, naturally and without resorting to enzymes or probiotics, offering relief to the 'occasional release of gas caused by indigestion, bloating and more.
Formidable antioxidant: pomegranate is a fruit with antioxidant action, useful in fighting oxidative stress and cellular aging.