Nutri Sol: nutritional biostimulant with fulvic and humic acids- 1L x 2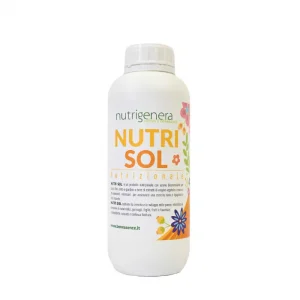 Quality and benefits:
Nutri Sol is a nutritional product with biostimulant action with fulvic and humic acids for plants, flowers, lawn and garden.
DOWNLOAD THE BROCHURE for detailed info ->Brochure-Nutrigenera
WHAT DOES IT CONTAIN?
Vegetable organic substance;
Total nitrogen (N) 3% ;
Phosphoric anhydride 4% ;
Potassium Oxide 3% ;
Organic carbon 15% ;
Humic and fulvic acids 24% ;
Based on plant-derived extracts and macro- and micro-nutrients needed to ensure healthy and lush growth of all plants. It promotes the formation of new roots, shoots, leaves, fruit and encourages abundant flowering.
Why choose Nutri sol?
Organic product and 100% natural.
Suitable for all crops.
It does not require a licence to use it.
It is safe for pets.
It is manufactured in an environmentally friendly way.
It is a Bee Safe product, meaning it is safe for beneficial and pollinating insects.
It is contained in easily recyclable plastic bottles.
---
Our Standard