Organic Millet Seeds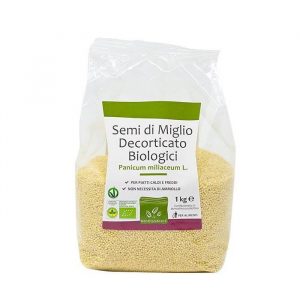 Quality and benefits
ORGANIC PRODUCT : 100% Millet (Panicum Miliaceum.) shelled from organic farming. Packaged in PROTECTIVE ATMOSPHERE to keep the taste and nutrients intact – Format of 1 Kg.
WHY HIRE THEM? Millet seeds perform a support and restorative action for the body. Furthermore, they are considered among the foods useful for maintaining the well-being of nails and hair.
HOW TO CONSUME THEM : Millet is used as a base in numerous hot and cold recipes: for the preparation of soups, soups, vegetable meatballs, flans, croquettes, salads and single dishes.
DID YOU KNOW THAT? Millet has been cultivated since prehistoric times, is gluten-free and is therefore suitable for consumption by celiacs.
Our standards