Aloe Barbadensis Jar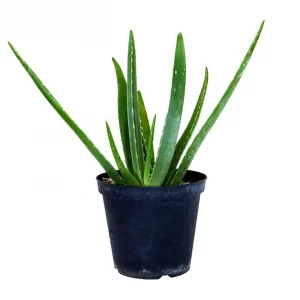 CULTIVATION TECHNIQUE OF ALOE BARBADENSIS
Aloe is a plant that needs a mild climate to grow. In fact, it lives well outdoors in warm-temperate areas while in cooler areas it must be brought in out of the winter cold as it will not tolerate temperatures below 5 to 8 °C.
WATERING
In the spring-summer period, Aloe should be watered moderately and taking care not to get the leaves wet so as to prevent water from settling between the leaves that could lead to dangerous rot. The technique is to water and let the soil dry until the next watering. As autumn-winter approaches, watering should be gradually decreased. Gradually resume watering in spring.
TYPE OF SOIL – REPOTTING
Aloe is repotted in spring, increasing the size of the pot each time. Since it does not have a particularly deep root system, it is preferable to choose a pot that is wider than deep and has adequate drainage holes since it does not like water stagnation, and to arrange gravel or pieces of crock on the bottom of the pot. These are plants that are not particularly demanding of soils but prefer mostly sandy soils that promote rapid drainage of excess water.
FLOWERING
Aloe develops flowers from spring to fall depending on the species and varieties that form at the top of a long stem, simple or branched or clustered, and the plant does not die after flowering unlike Agave.
PARTS USED OF THE PLANT
Of aloe, fresh leaves harvested from a plant at least 3 years old are used. From aloe leaves nowadays a gel is obtained by opening the leaf.
HOW TO USE
For external use, aloe gel is used as a healer for burns and wounds, as a soothing and calming agent, and as a skin revitalizing and moisturizing tonic. Fresh, open aloe leaves can be placed directly on the skin to soothe minor burns and scalds.
ORDERS CONTAINING THE PLANNER WILL BE SHIPPED ON THE NEXT MONDAY.
Leaves and plants will be shipped only with payment in advance. It is not possible to pay by cash on delivery.
Our standards