Pro-byotik: Probiotico e prebiotico per suolo e piante: Ripristina la fertilità del terreno – 1 L x 3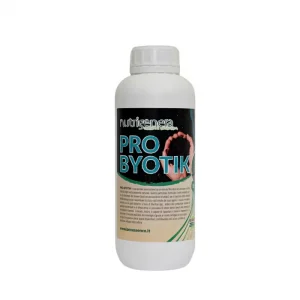 Pro-byotik is a special combination of a natural nutrient base and inoculated microorganisms with prebiotic and probiotic action. Designed for nutrient-depleted soils, it is useful for restoring natural biological fertility and rebalancing the nutritional status of agricultural soils.
DOWNLOAD THE BROCHURE for detailed info –> Brochure-Nutrigenera
WHAT DOES IT CONTAIN?
Type of organic soil improver: simple non-composted vegetable soil improver
Mycorrhizae (Glomus spp.) content: 0.00001%.
Rhizosphere bacteria content: 1 x 10 7UFC/g
Quality and benefits:
First of all, the microbial inoculum, based on Bacillus spp., induces the natural production of biostimulating substances for the plant and active defence against potential harmful microorganisms.
Moreover, the inoculum, by developing rapidly and occupying the available space in the soil (which could also be colonised by harmful micro-organisms), restores the natural balance necessary for the plant to develop properly.
Why choose Pro-byotik?
Organic product and 100% natural.
Suitable for all crops, leaves no residue.
It does not require a licence to use it.
It is safe for pets.
Manufactured in an environmentally friendly manner.
Bee Safe product, i.e. safe for beneficial and pollinating insects.
It is contained in easily recyclable plastic bottles.
---
Our Standard