Tricomic: stimulates root expansion and protects the plant from harmful insects – 2x 1kg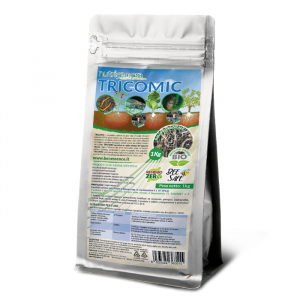 Tricomic is a BIOSTIMULATING MICROBIOLOGICAL product consisting of viable spores of arbuscular mycorrhizal (AM) fungi of the genus Glomus spp., Bauveria bassiana and rhizosphere bacteria in a microgranular formulation.
DOWNLOAD THE BROCHURE for detailed info –> Brochure-Nutrigenera
Distributed in direct contact with the roots at the time of transplanting, it leads to greater expansion of the root system, creating a beneficial symbiosis with the plant. Tricomic ensures rapid development of the root system, improves the plant's efficiency in absorbing water and nutrients, and positively increases the quality and quantity of flowers and fruits. It helps the plant cope with and overcome stress created by the presence of phytophagous insects such as elaterids, dipterans, beetles, etc.
WHAT DOES IT CONTAIN?
Type of organic soil improver: simple non-composted vegetable soil improver
Mycorrhizae (Glomus spp.) content: 10%.
Rhizosphere bacteria content: 1 x 10 8UFC/g
Bauveria spp. content: 5 x 10 7 UFC/g
What is a Mycorrhiza?
This term refers to a structural and functional complex between a higher plant and a fungus. This interaction is symbiotic, that is, the two different organisms establish a relationship involving a mutual exchange of benefits. The two species can thus coexist and strengthen each other, becoming less susceptible to infections and harmful stimuli of various kinds.
Why choose Tricomic?
Organic product and 100% natural.
Suitable for all crops, leaves no residue.
It does not require a licence to use it.
It is safe for pets.
It is manufactured in an environmentally friendly way.
It is a Bee Safe product, meaning it is safe for beneficial and pollinating insects.
---
INSTRUCTIONS FOR USE
Horticultural Crops: To Transplant. 2-3 g per plant, locating it near the seed or seedling to be transplanted.
Turf: SEEDING. 5-10 g/m2 and finely mill into the surface layer of the soil. In the absence of milling, irrigate copiously.
Rootstocks, Trees, Arboreal and Ornamental Plants: Planting. From 10-20 g up to 50-150 g per plant depending on the size and type of the plant.
Our Standard